Hudson Valley Transportation Management Center Programs
---
Overview
The New York State Department of Transportation and the New York State Police have entered into a partnership in the Hudson Valley on an initiative to implement a regional Transportation Management Center (TMC) under the guidelines of the Federal Highway Administration. It is envisioned that the TMC will be a multi-agency, multi-modal facility that will be the focal point for coordinating area wide highway and transit management, incident response, as well as for the collection and dissemination of local traveler information.
The Hudson Valley Transportation Management Center will follow existing designs in Baltimore, Maryland, Atlanta, Georgia and Salt Lake City, Utah; utilizing the concept of Intelligent Transportation Systems. The site for the TMC is at the New York State Police Facility in Hawthorne, New York.
---
Purpose
The function of the Hudson Valley TMC will be to improve the operation of the highway system through teamwork and technology, thereby improving the mobility of travelers and goods in the Hudson Valley.
The New York State Department of Transportation and the New York State Police and other agencies have entered into a partnership to implement a broad range of diverse technologies, known collectively as Intelligent Transportation Systems (ITS). ITS is comprised of a number of technologies, including information processing, communications, control equipment, and electronics. Joining these technologies to our regional transportation system will save lives, time, and money.
Travel condition information will be collected, processed, and disseminated to allow transportation managers and the public to make appropriate transportation decisions. The travel conditions, congestion management, decisions and incident related information will be converted to understandable traveler information and displayed as a real-time traffic speed map, current traffic incident information map and current lane closure map in the TMC and on the Internet.
Types of information generated by the TMC also include, but are not limited to:
Location, type, and nature of incidents,
Details related to road construction,
Route diversion,
Traffic condition information,
Transit system information,
Data supporting indicators of congestion management, and special event information.
The Transportation Management Center will perform:
Incident Response: The facility will perform duties related to logistical and emergency support, communications, dispatch, and monitoring. Response also includes dissemination of information directly to motorists and transit travelers.
Traveler Information: Information will be disseminated through Variable Message Signs (VMS) and Highway Advisory Radio (HAR), but an emerging role of the TMC in widespread information dissemination to the public will be to pass this information to the public via the World Wide Web and other Information Service Providers like: cable TV, e-mail, pagers and telephone mailboxes.
Traffic Management: Some typical duties include monitoring the operation of the transportation system, traffic signal control and coordination, communicating to dispatching services, and disseminating information to Variable Message Signs (VMS), media and broadcasting services when conditions of the system change.
Video Surveillance: Through Closed Circuit TV (CCTV) video surveillance of the highway, the TMC operator can determine the type of assistance that may be needed at the trouble location and whether emergency personnel should be summoned. TMC operators detect and verify incidents, areas of congestion and field conditions due to special events.
The TMC will be the central point for collection and dissemination of transportation information, roadway surveillance, management of roadway and transit conditions, management of congestion, roadway event and incident related traffic, for the Hudson Valley region.
The Hudson Valley TMC will advance ITS implementation regionally in both rural and urban areas. The TMC will facilitate travel for motorists, transit riders, commercial vehicle operators and public safety providers. The program emphasizes cost-effective deployment that will result in:
Area-wide, real-time operation of the transportation system
Integration of an enhanced, multi-modal transportation system
Development of user-friendly transportation services
Improved transportation management can only be achieved through the coordinated efforts of a variety of agencies. Accordingly, our ITS program places a strong emphasis on providing leadership in establishing inter-agency transportation partnerships on a local, regional and national basis.
In addition, the ITS program also recognizes that the private sector will play a critical role in ITS implementation. A priority element is to promote opportunities for ITS public/private partnerships through active participation mechanisms like ITS-AMERICA and to pursue innovative means to accomplish these new partnerships.
We also expect that the Hudson Valley Transportation Management Center ITS program will provide the Hudson Valley industry with a general economic stimulus in terms of increased transportation productivity, and new markets for the development and production of high-tech products that will compete in a global ITS marketplace. The Hudson Valley Transportation Management Center will provide leadership in a program that will ensure the transportation system will be an active participant in the communications and information advancements that will redefine our everyday lives into the next century.
---
History
With the completion of a study, known as The Early Deployment Plan (EDP) in November 1998, the Hudson Valley ITS Program has advanced to a new state of development. While numerous ITS treatments were recommended in the EDP, the program must be fundable, buildable and operable. Towards this end the recommended treatments have been divided into sub areas of dense traffic movements for freeway and arterial traffic management in the Hudson Valley region and decision points for motorist information at critical intersections of major roads throughout the region. A multi-year program to deploy equipment is underway. An initial stage is an ongoing telecommunications study to optimally use existing privately and publicly owned fiber optic and/or wireless resources in order to reduce future operating costs.
The Transportation Management Center will be built at the site of the current State Police Building in Hawthorne. Until then, an Interim Transportation Management Center (I-TMC) in White Plains will manage the ITS as deployment of equipment begins to allow traffic flow improvements, particularly during the Cross Westchester Expressway (I-287) reconstruction project. It is expected that the I-TMC will operate 10 to 20 variable message signs in that effort, as well as 20 or more Closed Circuit TV cameras and numerous flow detectors to supplement other sources of information.
Additionally, the Hudson River bridge crossings and many other important highway intersections are planned for motorist information under the decision point strategy. Several important arterials, including Route 59 in Rockland County and Route 9 in Dutchess County are planned for signal coordination improvements.

---
TMC Construction
The State Police have partnered with the New York State Department of Transportation, in designing a modern Transportation Management Center, which will be built behind the existing structure. This facility will be the central point for collection and dissemination of transportation information, traffic surveillance, management of roadway and transit conditions, and management of congestion, special event and incident related traffic, for the Hudson Valley region. It is scheduled for substantial completion of the building in December 2003, on the adjacent grounds of the former Troop "K" Castle, which remains. While the design will be modern and energy efficient, it will complement the existing structure in its medieval appearance.
Concept Drawing of Hudson Valley Transportation Management Center with
Transportation Management Center wing (left), atrium, and New York State Police wing (right)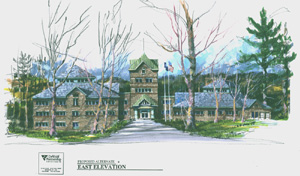 | | |
| --- | --- |
| | The first home of the New York State Police in the region was the Gedney Farms Estate, which was the Troop "K" Headquarters from the fall of 1917 until it was destroyed by fire in 1924. At the time, Troop "K" patrolled the entire Hudson Valley and Long Island, from the Catskills to the Hamptons. |
| The Troopers were housed in temporary Headquarters until November 7, 1929, when they moved into "The Castle" a building at the Bronx Parkway Extension at Hawthorne. Additional Troop Headquarters were later built in Dutchess, Orange and Suffolk Counties. The subsequent reorganization of manpower, and the exchange of horses for patrol cars reduced the need for such a large structure. This building was then sold to a condominium developer in the 1970's, and was replaced by a small block building on the adjacent grounds. | |
The Hudson Valley Transportation Management Center Partnering Agreement was signed on March 28th, 2002. Click Here, or on the image below, to view the construction photos from February 2002 to January 2004!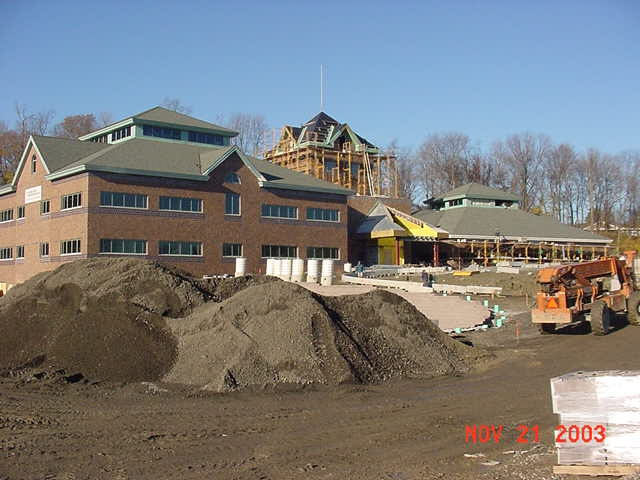 ---
Intelligent Transportation Systems (ITS)
ITS is a national program aimed at using modern computers and communications to make travel smarter, faster, safer and more convenient. Here are just a few of the ways ITS helps us:
Intelligent traffic control systems help us by reducing the time we spend stopped at red lights or waiting on freeways when an accident occurs.
Automatic toll collection moves vehicles more quickly through toll booths, reducing congestion and pollution.
Traveler information systems help us by giving us information on travel conditions allowing us to make smarter choices about how, when and where to travel.
In-vehicle systems will help us by giving us in-vehicle maps, guiding us to our destination and improving our safety by automatically notifying emergency services when a serious accident occurs and exactly where the accident is located.
Advanced transit systems help transit agencies operate more efficiently and provide travelers with real time information that makes using transit easier and more attractive.
Intelligent commercial vehicle systems will help commercial vehicle operators process the paperwork associated with moving goods. These systems will also help public agencies improve safety by inspecting the vehicles that need it the most.
ITS makes travel safer and less time-consuming, and makes it easier to chose the way you wish to travel. This will give businesses a more efficient, less costly way of moving its products to the marketplace.
The ITS program is based upon an approach that starts with the development of strategic plans for Hudson Valley, including both urban and rural areas.
Traffic and travel management systems will provide benefits beyond those involved in addressing urban congestion problems. In rural areas, we will be evaluating systems that hold the promise of significant safety benefits when applied to traveler weather advisory systems and advanced warning of roadway conditions, such as accidents and slippery pavement. We will also be exploring systems that can provide the recreational traveler with valuable information on travel routing services.

---
National ITS
In 1991, Congress established a national program through the United States Department of Transportation (USDOT) to develop and deploy Intelligent Transportation Systems (ITS) nationwide. At the time it was called "Intelligent Vehicle Highway Systems". With the adoption of the Intermodal Surface Transportation Efficiency Act of 1991 (ISTEA), Congress allocated $2 billion over six years for the development of ITS. Congress also mandated in ISTEA that USDOT create a "National ITS Program Plan" and "National ITS Architecture" to spur the development and deployment of ITS systems that would be integrated and interoperable nationwide. Congress passed ISTEA's successor legislation, the Transportation Equity Act for the 21st Century (TEA 21) in 1998, which included continued funding for the national ITS program managed by USDOT. From 1998 until 2003 TEA 21 provided nearly $2 billion in funding for ITS nationwide.
National goals are intended to support:
Increase operational efficiency and capacity of the transportation system,
Enhance personal mobility and the convenience and comfort of the transportation system,
Improve the safety of the Nation's transportation system,
Reduce energy consumption and environmental costs,
Enhance the present and future economic productivity of individuals, organizations and the economy as a whole, and
Create an environment in which the development and deployment of ITS can flourish.

---
New York ITS
The efficient operation of both New York's passenger and freight transportation infrastructure - highways, transit, rail, aviation and waterways - is critical to sustaining economic growth, attracting new businesses and residents, and creating jobs. In November, 2003, Governor George E. Pataki announced plans to more closely coordinate the management of New York State's transportation agencies and authorities, with a goal of creating a seamless statewide transportation system -- by forging strategic partnerships among state agencies, operators and service providers -- that will ultimately create economic efficiencies in government and more efficiently move people and goods throughout the State's transportation system.
The Governor has directed New York State Department of Transportation (NYSDOT) Commissioner Joe Boardman to lead the integration effort and to develop an action plan that will begin to produce results in the very short term, starting with better coordination among upstate transportation systems like the DOT, Thruway Authority, Bridge Authority, and other transportation providers.
The NYSDOT is also undergoing a transformation under the guidance of Commissioner Boardman. Increasing vehicle miles of travel and increasing volumes of freight on New York's roadways are just two of the trends that the Transformation is helping the Department respond to. The effects of an aging population, increases in the numbers of drivers per household and other factors of social and economic change contribute to the increase of vehicles on our roadways. Throughout the Transformation, we continue to work on setting priorities for the Department that will improve mobility and reliability, enhance safety and security, improve environmental conditions, and promote economic stability.
The New York State Department of Transportation's (NYSDOT) Statewide Intelligent Transportation System (ITS) program is called New York MOVES. New York MOVES is aimed at improving the public's transportation-related Mobility, Operations, Vehicular systems, Environment and Safety through the use of new transportation systems and technologies.
New York MOVES will advance ITS implementation consistent with the guiding principles of the Transformation in upstate and downstate regions, in both rural and urban areas. Its mission is to facilitate travel for motorists, transit riders, commercial vehicle operators and public safety providers. Improved transportation management can only be achieved through the coordinated efforts of a variety of agencies. Accordingly, MOVES places a strong emphasis on providing leadership in establishing inter-agency transportation partnerships on a local, regional and national basis.
The use of ITS has already been proven in New York State, with successful implementation and visible results on Long Island, in New York City, the Hudson Valley and upstate New York. New York MOVES has commenced work on a two year project to provide an integrated framework for the development of cost effective ITS solutions Statewide.
As the Federation of Transportation Agencies matures in New York State, the Transportation Management Centers will reveal their instrumental nature in nourishing productive close relationships between diverse agency staff, as well as a platform for effective policy level decision-making and provide a transparent and greatly improved interface to the public.

---
Hudson Valley ITS
The New York State Department of Transportation and New York State Police, in conjunction with local police, the New York State Thruway authority, The New York State Bridge Authority, TRANSCOM, the I-95 Corridor Coalition, Westchester County, and several other organizations, recognized the importance of and the need to relieve congestion in the Hudson Valley. Roadway expansion was rejected as an option due to high costs, environmental impacts, and property restrictions. It was also determined that roadway expansion would not alleviate congestion problems. The Hudson Valley stakeholders therefore developed a partnership and a plan to integrate Intelligent Transportation Systems (ITS) to increase the efficiency of the existing highways.
This coalition set out to implement a regional Traffic Management Center (TMC) under the guidelines of the Federal Highway Administration. Thus began the creation of the Hudson Valley Intelligent Transportation System (HVITS) for deployment at the Hudson Valley Transportation Management Center (HVTMC).
The HVTMC is part of the national and statewide initiatives. A multi agency, multi modal facility is envisioned; one that will be the focal point for coordinating area wide highway and transit surveillance, management, incident response, as well as for the collection and dissemination of traveler information.
The HVITS is aimed at increasing the utility of the surface transportation infrastructure by means other than building more miles of wider limited access highways. A high performance, reliable communications and information management network and a fault tolerant computing system are included in the implementation. These systems permit effective and automated approaches to detection and characterization of incidents, and allow for rapid implementation of solution scenarios by operating and management personnel focusing on traffic and safety issues .
The design of the HVITS incorporates flexibility and expandability to plan for future technological change and accommodate advances in technology. This pre-designed flexibility will enable the HVITS to meet its goals:
enhance public safety
improve air quality
increase the utility and efficiency of our roadways
increase the utility and efficiency of public transit
integrate with user services such as emergency services.
The HVITS design provides reliability with multiple systems including multiple types of roadway sensors; changeable message signs; highway advisory radio; fiber optic, cable and T-1 communications lines; wireless communications; console monitors and video-wall systems.
Functional goals for the Hudson Valley ITS include:
Detect incidents
Coordinate Incident Response
Reduce impact of major incidents
Control traffic to reduce congestion
Provide travel information
Reduce secondary incidents
Improve the environment
Coordinate construction activities
Support public transportation
Support regional emergency response
Enhance reliability
NYSDOT Region 8 Regional ITS Architecture Master Plan

---
Geographic Coverage Area
The geographic area that the HVTMC is responsible for covers Columbia, Dutchess, Orange, Putnam, Rockland, Ulster, and Westchester counties. In New York, the Department of Transportation is organized into Regions, and this geographic area is known as Region 8.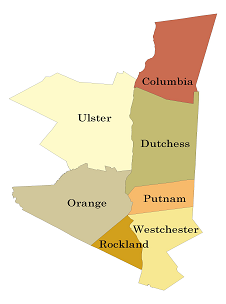 NYSDOT Region 8 (R-8) contains 5,696 miles of State highways and 1,124 bridges within its 4,295 square mile area. Known to many as the Hudson Valley Region, R-8 includes 13 cities, 75 villages, and 107 towns. There are scores of hamlets and unincorporated places within the region.

Throughout R-8, and especially the southern portions of Westchester, Rockland and Putnam counties, above average commuter volumes, goods movement, and a high number of incidences cause recurring travel delay. A large percentage of Hudson Valley commuters travel to employment centers in New York City (the southern border of Westchester County is the northern boundary of the Bronx), northern New Jersey, or to western Connecticut. Any traveler wishing to directly access New York City from Connecticut, or visa versa, must travel through lower Westchester County.

In the east-west directions there are very few alternatives, where the Cross County Parkway, Interstate 287 and further to the north, Interstate 84 take the bulk of the east-west movement in the region. North-south flows are distributed on the New York State Thruway which follows the Hudson River Valley through the center of the region, Interstate 95 further to the east, and several older Parkways (primarily designed for leisurely usage) which meander through heavily populated residential and commercial corridors.

---
Congestion management has taken many forms as Federal, State and Local transportation and law enforcement agencies respond to traveler needs. The Federal government's transportation agencies, the Federal Highway Administration (FHWA) and the Federal Transit Administration (FTA) periodically draft rulings that are then passed through Congressional approvals to provide guidance to State transportation agencies who must plan for and manage the transportation systems within their boarders. The Interim Final Rule on Management and Monitoring Systems contained a definition of congestion:
"The level at which transportation system performance is no longer acceptable due to traffic interference. The level of acceptable system performance may vary by type of transportation facility, geographic location and/or time of day."
Congestion is generally measured by threshold values, typically based on the capacity of the roadway or of the transit facility. For example:
Roadway congestion on a four-lane freeway segment is often expressed in level-of-service, based on a scale of A through F, where A is free flow and F is failure or a standstill.
Transit congestion is expressed in number of square foot per rider, with a four square foot area as the equivalent of a level of service A on the highway scale.
Congestion can be attributed to some form of delay or inadequate response to need by the transportation system. Most roadway congestion is caused by delay due to either recurring delay or non-recurring delay. Examples of delay are:
Recurring delay:

Bottlenecks
Excess Demand
Same location
Commuters
Seasonal
Long-term Construction
Non-Recurring Delay:

Accidents
Disabled vehicles
Short-term lane closures
Special Events
Weather
Locations vary
During periods of peak flow, major roadways either meet or exceed their capacities, causing recurring traffic delays. Commuters expect recurring delays and can plan their travel accordingly by modifying the time of travel, changing mode, or even changing their place of work. Transit can experience recurring delay and similar solutions are available to commuters. Non-motorized paths can experience recurring congestion and travelers may choose alternative routes.
Non-recurring congestion occurs as a result of random or unexpected events, such as vehicle breakdowns, crashes, or highway maintenance & construction operations on roadways; mechanical failure or passenger emergencies on transit; and construction or other blockages on non-motorized facilities.
Incident based congestion is the source of roughly 55% of all traffic delay. When time is lost during an incident, either in the detection or the response phase, it prolongs the temporary congested conditions and increases the chances for secondary incidents. Secondary incidents such as rear-end collisions or accidents relating to incident clearance. It is estimated that approximately 20% of peak hour incidents are secondary.1
For example, before the Highway Emergency Local Patrol (HELP) program of driver assistance was initiated, a minor incident involving mechanical or engine trouble could cause, on average, 83 minutes of incident duration.2
Increases in traffic delays result in increased pollution from emissions, inefficient fuel consumption, and lost dollars to businesses every day. By their nature, drivers cannot predict the location, occurrence, or duration of these delays. Commuters cannot plan for most non-recurring congestion. Implementation of incident management techniques and Intelligent Transportation Systems can help commuters to cope with these events and even avoid their impacts.
In the 80's and 90's, communications and automated technologies advanced to a stage where reliable and cost-effective applications could be developed to help manage incidents and reduce non-recurring congestion. The set of technologies has become known as Intelligent Transportation Systems (ITS). The E-Z Pass system is an example of an ITS that has been implemented in our area. Other systems are under development at the HVTMC, including an Advanced Traveler Information System (ATIS), and a Roadway Weather Information System (RWIS). As each one of these systems mature, the traveling public will begin to their positive effects on congestion in the region, like the results that have been realized by the HELP truck system, saving an estimated hundreds hours of traveler delay in the region in 2001.
---
1
Hudson Valley ITS Business Plan
, NYSDOT, November 2000, page 15.
2
HELP Benefits Assessment Final Report
, page 47.

---
Closed Circuit Television (CCTV) Cameras
| | |
| --- | --- |
| The Hudson Valley Transportation Management Center will use Closed Circuit TV (CCTV) cameras to monitor the traffic. | |

---
Highway Advisory Radio (HAR)
| | |
| --- | --- |
| Highway Advisory Radio is a traffic information broadcasting system. Drivers are alerted to tune their car radios to a specific channel in order to receive transmitted information. | |

---
Variable Message Sign (VMS)
Variable Message Signs are used for implementation of traffic control measures as well as the provision of information to drivers and travelers.
Portable VMS are used to provide information to motorists when a permanent sign is not needed or would be too costly to install. VMS can be moved by highway maintenance crews to other locations during incidents or large scale events that require giving information to motorists.

---
Traveler Information Kiosk
| | |
| --- | --- |
| Kiosk - A structure housing a walk-up information station or posting keyboard. A traveler information kiosk can provide a variety of ITS services to users, including dynamic traffic and transit information, travel directions, fare card dispensing, travel reservations, and yellow pages information. | |

---
Automated Collision Notification (ACN) Systems
| | |
| --- | --- |
| | Automated Collision Notification systems help save lives by automatically calculating and communicating the severity and location of a crash directly to a 911 center. It includes an in-vehicle module that automatically senses and characterizes a crash and transmits information about the crash. At the 911 center, a computer console displays a detailed roadmap showing the crash location and other data, including the change in velocity experienced by the vehicle during the impact; whether the crash was frontal, side or rear impact; whether rollover occurred; the make, model and year of the vehicle; and the probable occupants of the vehicle. |

---
Bus Inspection Program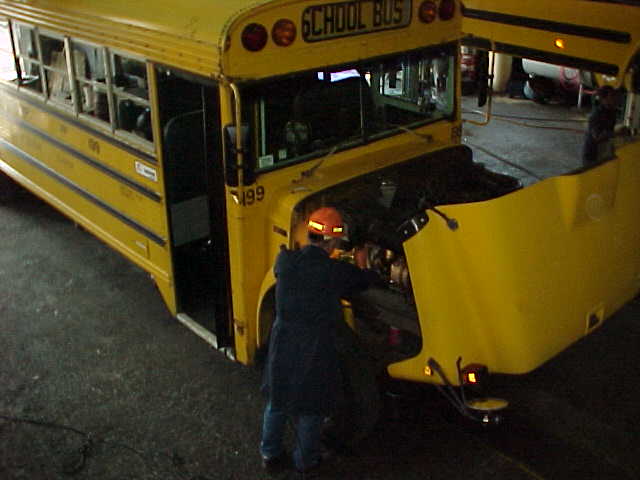 The New York State Department of Transportation Motor Vehicle inspectors conduct a 159 point detailed inspection on buses and other motor vehicles transporting passengers for hire. These inspections are to determine operating conditions and to assure the safety of school children and the traveling public. They also review maintenance records and procedures, and investigate accidents.

---
Contract Towing Program
The Contract Towing Program is administered by the New York State Department of Transportation, and supervised by New York State Police personnel assigned to the Hudson Valley Transportation Management Center. Towing agencies who have been assigned contracts perform towing services under strict qualifications and guidelines, and are subject to regular inspection of their vehicles, drivers, facilities and records. These tow firms have agreed to provide towing services on designated segments of the limited access highways in the region within a specified rate schedule which is required to be posted on every authorized tow vehicle.
A list of Towing firms currently under contract with the Department, and the roadway segments that they are assigned can be found here. Non-contract towers are prohibited from operating on the listed limited access highways in the Hudson Valley. Contracted tow service providers must be authorized by the responsible law enforcement agency each time they enter the parkway system. If your vehicle has been towed from one of these roadways due to being disabled or being involved in an accident, you may use this list to help determine the location of your vehicle. As tow services are provided at the direction of the law enforcement agency responsible for individual roadways in the region, you may also use this link to contact the responsible law enforcement agency that arranged for that tow.
The State Police thoroughly investigate all complaints regarding tow services provided by contract towers on the limited access highways within the region. Please feel free to contact us to report any service related complaints, or to make comments and suggestions. All complaints should be in writing and mailed to:
Hudson Valley TMC (Unit 1)
Contract Towing Program
200 Bradhurst Ave.
Hawthorne, NY 10532-1627

---
Hudson Valley Communications Project
In 1998, The New York State Police (NYSP) and the New York State Department of Transportation (NYSDOT) entered into a partnership to design, build and operate a Transportation Management Center in the Hudson Valley region of New York State to facilitate traffic and incident management and response on highways in the region. This effort incorporated a number of ITS deployments, service patrols, transportation and law enforcement dispatching over a wide area, and included cellular 911 call taking, utilizing resources of multiple jurisdictions at the local, county and state level. The Hudson Valley Traffic Management Center services a seven county region, encompassing twenty three State Police stations, highways under NYSDOT jurisdictions and ultimately plans to link to Fire/EMS, County and Park Police, as well as the NYS Thruway Statewide Traffic Operations. In assessing the potential TMC operational functions, the project team recognized that the TMC's success would be largely influenced by the effectiveness of communications between the center and the various operational units, including police, transportation agency and service patrol personnel.
The inability to communicate between vehicles from different agencies assigned to the same diversion routes, and between communications centers significantly hampers incident response and traffic rerouting efforts, while frustrating workers and motorists. At the project's inception, interagency and interdisciplinary emergency responder communications in the Hudson Valley area tended to be disjointed and inadequate, while police radio systems (like the area roadways) operated at capacity during routine operation, and were quickly overwhelmed during major incidents. Several significant incidents during the last decade, pointed to the negative impact major events could have on the highway system. These events seriously impacted the transportation system in the area, and required coordination by state, county and local police, fire, emergency medical services and transportation agencies. Further, due to its geographical proximity to the NYC/NJ Metro and southern Connecticut, major incidents in the Hudson Valley region have significant impacts on the region and the I-95 corridor. As the TMC operational and communications issues were assessed, these incidents were studied to determine functional needs and potential approaches. The needs assessment identified that: "A multi-agency communications network would provide the capability to communicate with and dispatch the proper emergency services and/or maintenance services including ambulance, police, roadway maintenance, towing, fire and hazardous materials experts". To address these issues, NYSDOT and NYSP, with support from FHWA and the I-95 Coalition, undertook a project to accomplish two primary purposes. The first was to demonstrate the capability of developing an interdisciplinary data interface (from a law enforcement system to a transportation system) from a computer aided dispatch (CAD) system to the TRANSCOM regional architecture database. (TRANSCOM serves as the Coalition's operation center to distribute information on incidents/agency response with the Corridor, including the Hudson Valley region). The second effort was to facilitate regional interagency coordination through the development of a multi-agency communications system between agencies computer aided dispatch systems utilizing mobile data terminals and automatic vehicle locator technology.
The Hudson Valley Communications Project consists of a Computer Aided Dispatch (CAD) system, which connects a mainframe computer to workstations in ten emergency dispatch points in the Hudson Valley via existing wide area network connections. These locations provide emergency responder communications for the New York State Police and the New York State Department of Transportation's 25 Highway Emergency Local Patrol (HELP) service patrol trucks operating daily in the Hudson Valley TMC region. The system coordinates dispatch to incidents along the interstates and parkways within the region, utilizing incoming Cellular 911 data for incident detection, and interfaces with existing police data base and records management computer systems, the transportation software operating the ITS components within the TMC, and TRANSCOM's regional architecture database. The CAD communicates with highway police and HELP patrols over vehicle mounted mobile data computer terminals, which are equipped with global positioning system technology, known as Automatic Vehicle Locators (AVL). This allows dispatchers to observe patrol vehicle locations, determine unit type and status via color coded icons, and send the closest available unit to the scene of an incident, the location of which is prominently marked on the dispatcher's maps utilizing Navtech data converted into the system geofile. The system supports a paging feature, allows police patrols access to Department of Motor Vehicle data files, provides vehicle to vehicle and system-wide messaging, and also notifies a mobile responder of a pending matter should they be out of their vehicle. These features of the system significantly reduce congestion over existing voice communication frequencies, and allow units to continue functioning should an ongoing incident elsewhere require limited radio usage. One of the unique features of this system is the two-way interface between the incoming cellular 911 calls, the transportation software operating the ITS components from the TMC, and the regional information database operated by TRANSCOM. The system automates many of the reporting functions currently handled manually, reducing the amount of time police patrols spend off the highway. The system also automates the records management needs of the HELP Program. The data collected through the integrated CAD/TMC records management systems will be extremely useful in collecting data for historical analysis of incidents, detection times, response activities; assisting in resource deployment decision-making: and providing reliable information for cost-benefit analysis and performance assessment. At the time of its design, this was the first such proposed system in the United States. As both disciplines rely on incident detection technology to facilitate response, this natural marriage of information was recognized by both the Federal Highway Administration and the I-95 Corridor Coalition as a funding opportunity. The I-95 Corridor Coalition Coordinated Incident Management track is utilizing this project as an operational test to facilitate information-sharing, assess technology and provide lessons learned for other agencies in the corridor. In June 2002, the CAD system completed testing and became fully operational, while the mobile data component went "live" in October 2002, with 98 vehicles equipped with the latest mobile data hardware connected via private cellular digital packet data (CDPD) over a five county area. Currently, the Hudson Valley TMC integrated CAD/Mobile Data system handles almost 15,000 encrypted mobile transactions per month through the state interface. In December, an additional interface was successfully activated, connecting closed CAD call records to the State Police RMS, automating entry of over 300 police calls for service daily, previously (and painstakingly) entered manually by law enforcement personnel. Looking to the future, plans include taking advantage of the next generation of wireless data communications broadband capability, including the uploading mobile real time incident video to the TMC, "telemedicine" applications, and in-vehicle AVL mapping for "live" diversion route planning. Additionally, an I-95 Corridor Coalition sponsored study to create a template for development of interfaces with other emergency responder's legacy CAD systems (Fire, EMS, Thruway Authority, County Police) is ongoing, which will significantly enhance the coordination of incident response and improve the sharing of incident data between responsible partners.
Click on the thumbnail image to view a full size image.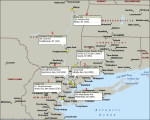 A future interface (currently under design) will link the TMC CAD system with public safety answer points throughout the Hudson Valley.
The concept portion of the Hudson Valley project was recognized by and awarded the Intelligent Transportation Society of New York's 1999 ITS "Project of the Year". The Hudson Valley Communications project has been undertaken with funding from the State of New York, FHWA and the I-95 Corridor Coalition.

---
Traffic Control
The Traffic Control Section of the Traffic Engineering and Safety Group has the responsibility to apply the New York State Manual of Uniform Traffic Control Devices (MUTCD) to the state highway network, including speed limits, to the local roadway system. Their decisions affect the operation of literally hundreds of thousands of motorists' vehicles every day and therefore their specific determinations must be timely and professionally prepared.

---
Traffic Signal Coordination Program

The TMC is developing a modern traffic signal system that will incorporate special functions, such as network signal optimization, communications, and database management.
The system will provide the management and reporting of daily functions involving signal system equipment. This includes trouble calls from the public, maintaining a log of all equipment repairs, statistical failure rate, status of work to be performed and individual component information.
The system will supervise local intersection control and coordination through distributed control of individual traffic signal controllers through a closed loop system. It will control and monitor all signals in the closed loop configuration and will perform a full range of traffic management functions. The system will be designed to transmit commands to local intersections and receive surveillance information back in an effort to improve mobility. This will allow for coordination with freeway incident management that will enable route diversion from congestion through variable message signs, highway advisory radio, traffic reports broadcasted over radio stations and over the Internet, and communication with transit operators.

---
This 2.5 million dollar Congestion Mitigation and Air Quality project will develop a publicly accessible, interactive, regional Transit Itinerary Planning System (TRIPS). The project is being progressed by the Department in partnership with the Metropolitan Transit Authority and other public and private transit operators in the New York City (NYC) metropolitan area. The system will provide regional, customized information on the most direct and convenient scheduled transit routes to meet customer specified origin to destination preferences. Currently, this type pre-trip planning is available only on an operator by operator basis from a limited number of operators. This project will allow the public single point access to a system that integrates information from multiple operators. Due to the project's scope and timing, it is being progressed as an important element of the NYC metropolitan area's Model Deployment Initiative.

---
| | |
| --- | --- |
| | NYS Department of Transportation (NYSDOT) has joined with the NYS Thruway Authority, NYS State Police, NYS Department of Motor Vehicles and Department of Tax and Finance to establish an inter-agency Motor Carrier Credential and Safety Task Force which will coordinate Intelligent Transportation System Commercial Vehicle Operations initiatives on a statewide basis. In cooperation with these agencies, the NYSDOT recently received grants from the I-95 Corridor Coalition to advance projects related to CVO Roadside Safety, CVO Electronic Credentialing and CVO Safety Management. |
The NYSDOT has taken major steps to automate its roadside safety inspection program through the use of laptop computers and is participating with several other Northeastern states in pilot tests related to the use of wireless communications for roadside data links to the Federal Highway Administration's SAFER MAILBOX System. The NYSDOT is also involved in a major initiative to automate its oversize/overweight permitting system.

---
The public sector element of the team is organized around TRANSCOM, a coalition of 15 transportation operating and enforcement agencies in NY, NJ and Conn. The private sector prime contractor for this project is Northeast Consultants (NEC). NYSDOT is the contracting agency for the project.
TRANSCOM: As a member of TRANSCOM, the Department is participating in a number of regional Intelligent Transportation System deployment projects. These include:
TRANSMIT, a system that uses the E-ZPass electronic toll collection tags as probes for traffic surveillance and management.
SATIN, a project that will install a network of inter-active traveler information kiosks at service areas, truck stops and transit centers
IRVIN, a project that will establish a network through which member agencies will be able to share video feeds from their various traffic surveillance cameras to facilitate regional traffic and transit management.
IRA, a project that builds upon existing TRANSCOM agency information connections and the I-95 Corridor Coalition Information Exchange Network to establish a robust, multi-modal Inter-agency Regional Architecture that will provide for automated information flow for regional coordination of traffic management, traveler information and other coalition functions. The IRA will be the major source of traveler information data for the i-Travel Model deployment project.
In addition, the TRANSMIT project, currently in use in Rockland County on I-87/I-287 and under expansion at 20 strategically located sites in Westchester County, offers a new tool for ITS traffic monitoring. Presently, TRANSMIT data is used to identify incidents on I-87/I-287 by monitoring link speeds between detectors. In the future, TRANSMIT will also collect dynamic link, path, and origin-destination data. It is planned to use this previously unattainable data with a computer simulation model developed at Massachusetts Institute of Technology (DYNAMIT), under a USDOT contract, to derive planning, design, and operations insights into ITS applications. It is planned to employ the DYNAMIT model in the Cross Westchester Expressway (I-287) reconstruction project for use with ITS elements deployed for maintenance and protection of traffic. Additionally, a National Science Foundation grant winner at MIT plans to apply, with mutual support from NYSDOT, a new and very fast optimization procedure for real-time network flow control using variable message signs, highway advisory radio, and in-vehicle advisories to be used along with development of the FHWA Model Deployment Initiative. This optimization technology is important to operating the network of freeways and parkways in the Hudson Valley, which will test the abilities of human operators to manage the ITS system without computer assistance.

Comments or suggestions should be sent to admin@hudsonvalleytraveler.com.